Celebrate Spooky Season at Denver Union Station
Celebrate Spooky Season at Denver Union Station
There's something truly incredible about autumn in the Mile High City. The temperatures are milder, the leaves begin to change from green to vibrant red and gold, and all around us, a sense of eager anticipation lingers in the crisp fall air. And while bidding farewell to the sunny summer months can often feel bittersweet, there's no reason the fun has to stop when the mercury starts to drop. In fact, the return of cooler weather signals the start of one of our favorite times of the year here at Denver Union Station — spooky season!
From sharing spine-tingling tales of haunted sites in downtown Denver to a host of exciting events at the Station this October, here are just a few of the things that have us especially excited to get into the Halloween spirit this year.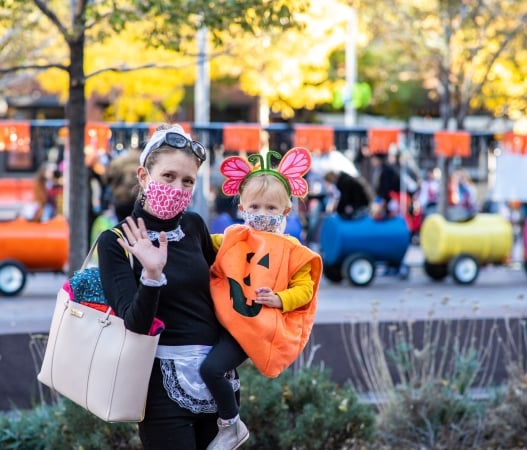 Trick-or-Treat Yourself to a Night of Family-Friendly Fun
Pint-sized trick-or-treaters and grown-up ghouls agree: when it comes to getting into the spooky spirit, nothing beats stepping out in a creative, homemade Halloween costume. If you think you've got what it takes to go head-to-head with some of the best costumes in Denver, then why not put your costume-making chops to the test this fall?
Join us on Wednesday, October 26th, 2022 from 4 pm to 7 pm for the annual BOOnion Station Trick-or-Treat Parade — a Halloween extravaganza held right here in Denver Union Station. Youngsters and adults alike are encouraged to don their very best costume and come out for an evening of exciting activities, including balloon art, face painting, live entertainment, spooky tunes, and a festive trick-or-treat parade through the Station. Prizes will be awarded for the best individual costume, as well as the best group or family costume, so dust off your finest ghost, goblin, pirate, or princess getup and get into the spooky spirit!
Enjoy a Haunted Walk Through Historic Denver
Downtown Denver is known for its charming streetscapes and stunningly preserved heritage buildings, but did you know that the Mile High City is also home to a world of spine-tingling ghost stories, haunted locations, and paranormal history? From a city park built on the site of a 19th-century graveyard to a mysterious figure said to keep watch over the Colorado Capitol Building, there are so many heart-pounding tales of the supernatural set just a short stroll from Denver Union Station — the perfect starting point for a self-guided tour of some of the city's most haunted sites.
Begin your journey in the Great Hall, where you just might catch a glimpse of the silent, spectral figure said to patiently stand guard over the century-old Station. Crisp October air sending a chill down your spine? Make a quick stop at Pigtrain Coffee Co. for a fresh-brewed cortado or chai latte. It's the perfect antidote to the goosebumps that await you as you make the short journey from Union Station to the historic Oxford Hotel. Located just a block from the Station, the Hotel has long been dogged by accounts of mysterious flickering lights, faucets running on their own, and even the occasional sighting of a ghostly female figure wandering the halls.
Your haunted walk continues along storied 17th Street to the Molly Brown House Museum, an historic mansion and the onetime home to the eponymous "unsinkable" Denverite and heroine of the Titanic disaster. Keep an ear out for the sounds of a disembodied piano player whose music is rumored to echo eerily through the halls from time to time.
From here, it's on to the rolling hills, lush gardens, and picturesque pavilion of Denver's 80-acre Cheesman Park. Don't be fooled by the storybook setting, though; according to local lore, the park itself was built upon the site of a 19th-century graveyard. Legend has it that hundreds of spirits still roam the park, manifesting in the sounds of whispers and moans. Keen to avoid the ghostly specters said to appear here after dark? Read on for more Halloween fun that's a little friendlier to the faint of heart.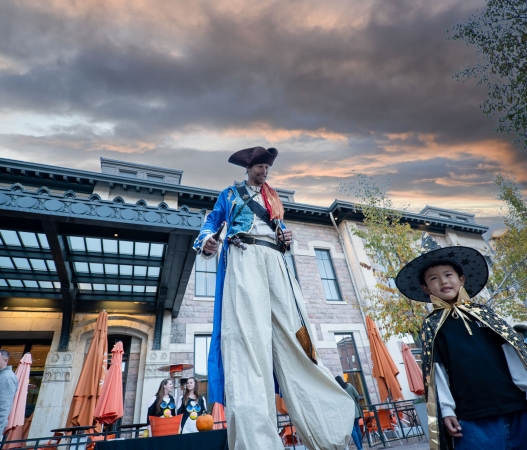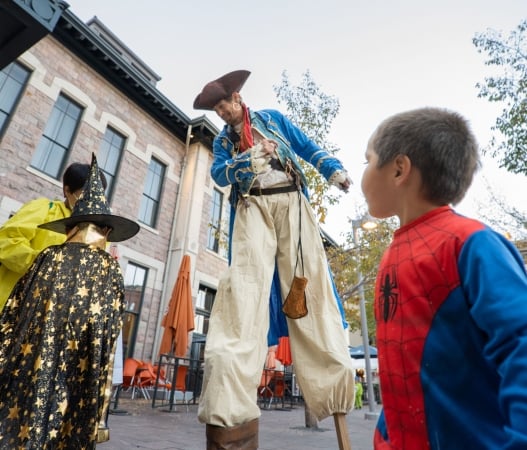 Treat Your Furry Friend to a Howling Good Time
Four-legged friends become like family, so it just makes sense that we'd want to include them in our Halloween celebrations. Join us on the Terminal Bar Patio on Sunday, October 23rd, 2022 from 1 pm to 3 pm for an afternoon of extra-special spooky events, including a Halloween-themed pet parade, costume contest, and adoption drive courtesy of the Denver Animal Shelter.
Unleash your fur baby's favorite superhero, ladybug, policeman, or princess getup for a chance to take home the top prize for the most creative costume or best group costume. (And before you ask: yes, pet-and-owner duos do indeed qualify as a group.) Humans can take advantage of amazing drink specials during "Yappy Hour" at the Terminal Bar, while aspiring dog parents will enjoy the chance to meet adoptable dogs in person, while learning all about the pet adoption process from the folks who know it best.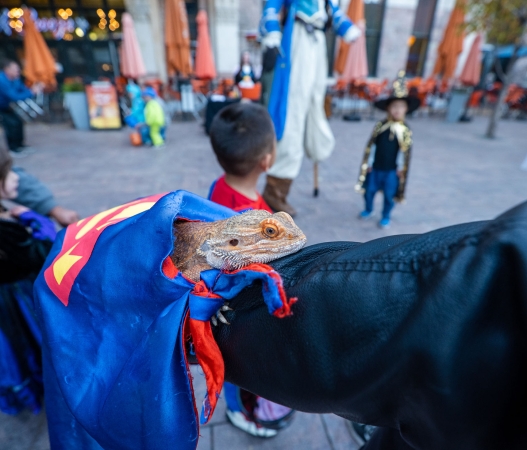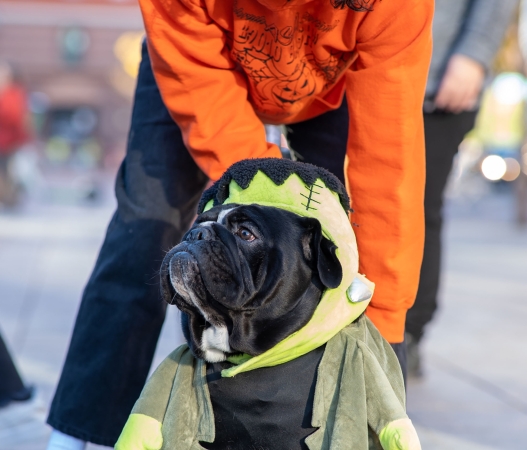 Party Like It's 1993
Families and four-legged friends aren't the only ones enjoying a world of fun at the Station this fall. Join us on Friday, October 28, 2022 from 8 pm until the witching hour for Hocus Pocus Halloween Opus: a spooky, spellbinding extravaganza with a seriously 90s twist. Step back in time as Denver Union Station transforms into the Salem of 1993: a bygone age of pagers, jelly sandals, and Beanie Baby mania, where the diabolical Sanderson sisters rule.
This campy, 21+ evening will feature live performances, DJs, a drag show, dancing, and plenty of spine-tingling surprises. Enjoy a complimentary cocktail on arrival, or upgrade your tickets to include access to the Black Candle Lounge for unlimited cocktails, beer, and wine from The Cooper Lounge. Guests are encouraged to don their best Halloween getup for the chance to win some bewitching costume prizes for the most iconic duo, witchiest witch of the decade, and most 90s ensemble.
After the party, take the elevator up to your Halloween home-away-from-home at The Crawford Hotel, where attendees enjoy preferred rates on luxurious, inviting accommodations inspired by the golden age of train travel. It's the perfect conclusion to a spooky celebration you won't soon forget.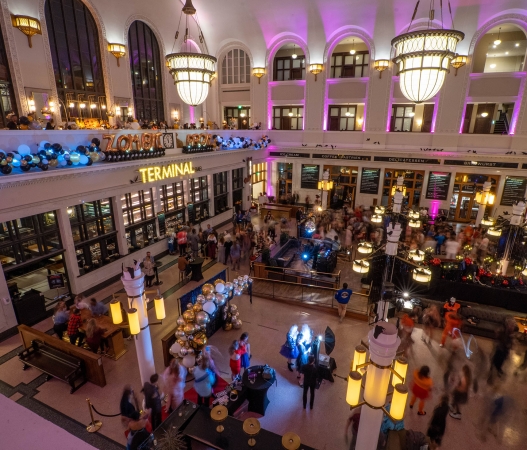 Additional Blogs to Check Out
Here are some blogs we think you'll love, give them a read.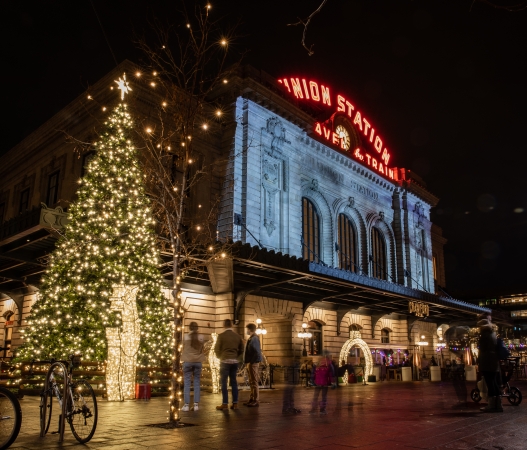 Dashing Through LoDo
A Collective Holiday Extravaganza Presented by Denver Union Station, Dairy Block, and McGregor Square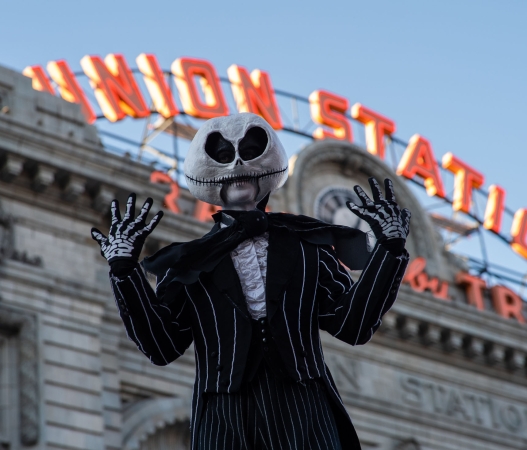 Celebrate Spooky Season at Denver Union Station
Get into the Halloween spirit at Union Station, from the family-friendly BOOnion Station Trick-or-Treat Parade to Hocus Pocus Halloween Opus, a spooky 90s bash.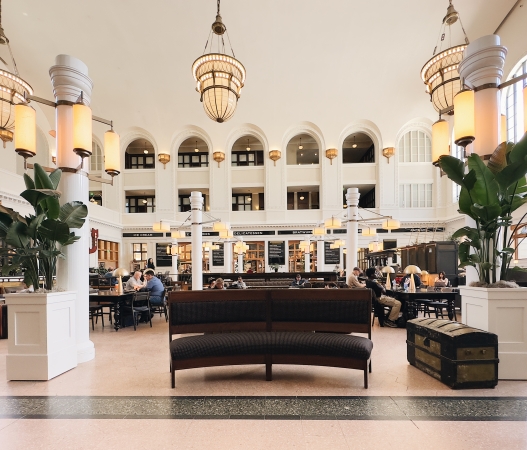 Our Ode to an Original Bench returned to Denver Union Station
Welcome Home Birge & Shoemaker Family Bench! Our Ode to an Original Bench returned to Denver Union Station