Counter Culture Oyster Class

Stoic & Genuine, named Denver's Best Seafood Restaurant and Best Oysters, introduces
Counter Culture Oyster Class
Join Stoic & Genuine for deep dives into oyster education. What's included? One dozen oysters with optional wine pairing plus tutorial.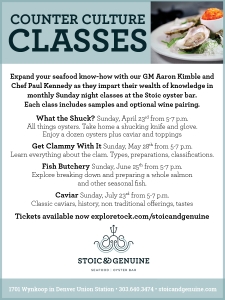 Expand your seafood know-how with the Stoic & Genuine General Manager, Aaron Kimble and
Chef Paul Kennedy as they impart their wealth of knowledge in monthly Sunday night classes at the Stoic oyster bar.
What the Shuck?
Sunday, April 23id from 5-7 p.m.
All things oysters. Take home a shucking knife and glove.
Enjoy a dozen oysters plus caviar and toppings
Get Clammy With It
Sunday, May 28th from 5-7 p.m.
Learn everything about the clam. Types, preparations, classifications.
Fish Butchery
Sunday, June 25th from 5-7 p.m.
Explore breaking down and preparing a whole salmon
and other seasonal fish.
Caviar
Sunday, July 23rd from 5-7 p.m.
Classic caviars, history, non traditional offerings, tastes
Tickets available now exploretock.com/stoicandgenuine