Denver's Living History
Experience a lovingly restored beaux-arts landmark in Lower Downtown Denver, where towering ceilings, arched windows, and glittering chandeliers are second only to charming shops, chef-driven cuisine, and an unparalleled lineup of can't-miss cultural programming.
Connected to Our Past
Denver Union Station has served as the heart of our vibrant city for more than a hundred years.
Opened in 1881 as the Denver Union Depot — the tallest building in the West at the time — it was consumed by a fire in 1894 and quickly rebuilt. By the early 20th century, demand for railway travel saw the city quickly outgrow the structure, and it was replaced with the larger carved-granite-and-terracotta structure you see today.
The Station reached its zenith in the mid-1940s, welcoming more than 50,000 visitors daily...
1881

Denver Union Depot opened its doors, spanning 500 feet.

1894

An electrical fire consumed the station, destroying the central hall and iconic clock tower.

1914

The newly christened Denver Union Station opened its doors in 1914.

1914

Presidents Theodore Roosevelt's visit to Union Station

2001

Efforts began in earnest to revitalize the once-great landmark of historic Lower Downtown.

2014

The reopening of the reimagined Denver Union Station
Reopened in 1914 as Denver Union Station, the imposing landmark has played host to notable dignitaries, from Presidents to European royalty. In 2001, efforts began in earnest to revitalize the station, culminating in a grand reopening of the reimagined Denver Union Station as a shopping, dining, and cultural destination in 2014 — one hundred years after the original opening of the rebuilt structure.
Union Station Alliance
In 2001, managing partners Walter Isenberg and Chad McWhinney along with Ferd Belz, Dana Crawford, Jeff Hermanson, Pat McHenry, Joe Vostrejs, and Rod Wagner, formed the Union Station Alliance, investing over $54 million in the revitalization of Denver Union Station. The partners worked tirelessly to bring their vision for the landmark to life, and the station officially reopened its doors in 2014, exactly 100 years after the opening of the 1914 structure. The historic building and its partner businesses inside continue to be steered by the Union Station Alliance.
The Union Station Foundation
The mission of the Denver Union Station Foundation, a registered 501(c)(3) non-profit organization, is to support local, regional, and select national charities in their work enriching communities, championing inclusive and equitable spaces for those in underserved and marginalized groups, bolstering education, constructing mental health resources and networks, battling houselessness and substance abuse, caring for children's health, and conserving Denver's history and environment. The Foundation has raised over $1 million for over 100 philanthropic organizations since our founding in 2008.
Select beneficiaries of The Union Station Foundation include: Children's Hospital Colorado, The Center on Colfax, WellPower, Dream on 3, Denver Animal Shelter, The National Scleroderma Foundation, Feeding America, Davis Phinney Foundation for Parkinson's, Escuela Tlatelolco, We Don't Waste, and the Anchor Center for Blind Children.
Neighborhood
Centrally located in the heart of historic Lower Downtown, Denver Union Station is the ideal home base from which to explore the very best of the city.
Millenium Bridge
Constructed in 2002, Millennium Bridge is the world's first cable-stayed bridge. Connecting Riverfront Park with the 16th Street Mall, it offers breathtaking skyline views via stairs or glass elevator.
Daniels & Fisher Clock Tower
One of 16th Street's most distinctive buildings, the Daniels & Fisher clock tower was once the highest building west of the Mississippi River. Built in 1910, it features a large bell and an observation deck.
Centennial Gardens
A stately, landscaped waterfront park featuring fountains, paved trails, and public restrooms. The garden encompasses five acres made up of plants in a classic formal design — with a distinctly Colorado twist.
RTD Light Rail
Bus, rail, and light rail transit service to Denver, Boulder, and surrounding cities in Colorado. Find station information, route maps, schedules, fare information, and more.
Ball Arena
This multi-purpose arena is home to Denver's best basketball, hockey, and lacrosse teams: the Denver Nuggets, Colorado Avalanche, and Colorado Mammoth. The arena also hosts live music and other special events.
Elitch Gardens
A world-class combination theme and water park located in downtown Denver, open April through October. Elitch Gardens features roller coasters, water slides, arcade games, live entertainment, and more.
Confluence Park
An urban park encompassing the confluence of Cherry Creek and the South Platte River in Denver's Lower Downtown. The park features grassy lawns, benches, cycling and hiking trails, and a kayak run.
City Park
A 330-acre park in east-central Denver. Home to both the Denver Zoo and the Denver Museum of Nature and Science, the park boasts a variety of sports facilities along with playgrounds and lakeside trails.
City of Cuernavaca Park
A narrow city park nestled along the banks of the South Platte River. Named for one of Denver's ten "sister cities", the park boasts cycling and hiking trails, picnic tables, and stunning city views.
Civic Center Park
A 12-acre urban oasis, home to the Colorado State Capitol building. Denver's only National Historic Landmark, Civic Center is one of the most complete and intact City Beautiful-era designs remaining today.
16th Street Mall
A mile-long pedestrian promenade in the heart of downtown Denver. Designed by famed architect I.M. Pei, the 16th Street Mall is a prime destination for shopping, dining, and exciting local attractions.
Empower Field at Mile High
The home of the NFL's Denver Broncos. The stadium's punishing, 5,280-foot elevation and notoriously passionate fans are known to give the Broncos one of the best home field advantages in the NFL.
Coors Field
A 76-acre baseball stadium in the heart of downtown Denver and the home of the Colorado Rockies. At 5,200 feet above sea level, the famously home-run-friendly Coors Field is the highest park in the Majors.
Wafels & Dinges was founded in 2007 with the mission of bringing the real Belgian Wafel to the streets of America in New York City. With only a select number of locations in the Big Apple, Wafels & Dinges has headed West and is only available in select ski resorts in Colorado and now Denver Union Station!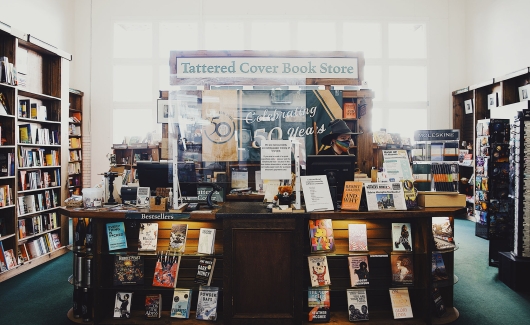 Tattered Cover Book Store
A pillar of the community since 1971, Tattered Cover is one of America's premier independent bookstores, offering warm, personalized service along with an extensive curated selection of new and used books.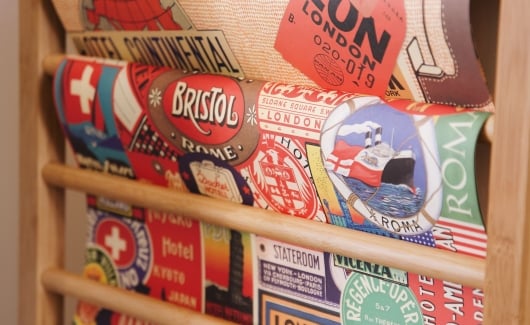 A downtown Denver treasure, this locally owned, offbeat boutique carries jewelry, accessories, home goods, and unexpected gifts, all delightfully presented in a cheerful cacophony of pattern and color.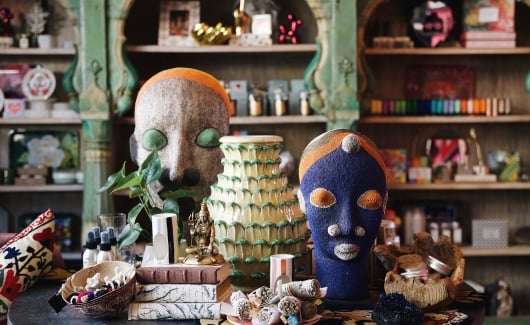 A delightful, ever-changing trove of the unique, from florals, art, and fine furniture, to fabrics, pillows, and jewelry, curated under the expert eye of Denverite and former Ford fashion model Anuschka Pashel.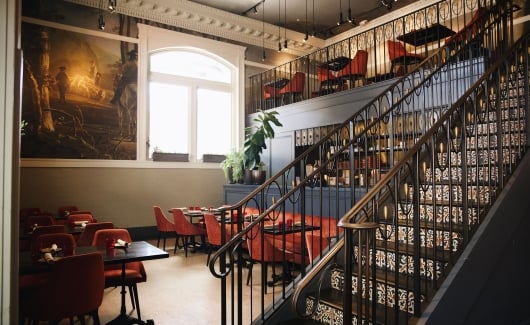 James Beard Award-winning chef Jennifer Jasinski draws inspiration from the Iberian peninsula with this delightful menu of tapas, pintxos, and petiscos, along with a selection of gins, sherries and gin-tonics.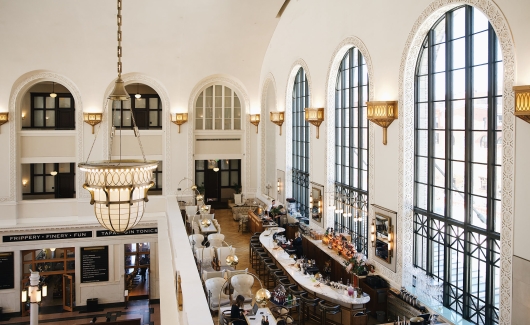 Located on the mezzanine with stunning views of the Great Hall and downtown Denver, this chic, Art Deco-infused space offering crafted cocktails and sumptuous bites is the perfect place to imbibe in style.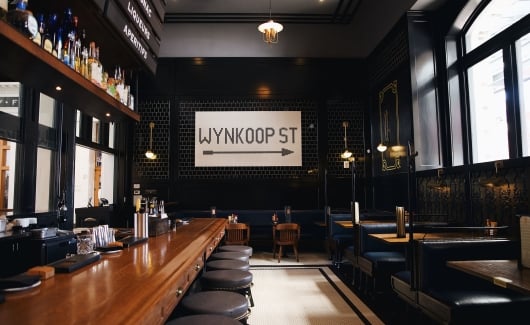 Located inside the stunningly restored ticketing office just off the Great Hall, Terminal Bar offers a menu of signature and classic cocktails, an extensive wine list, and over two-dozen local craft beers on tap.
Denver's iconic multi-coastal seafood, oyster house, and granita bar serves up a mouthwatering modern take on sustainable seafood that is sometimes innovative, sometimes classic, but always fresh.
A Denver institution serving iconic pancakes, artisanal benedicts, AM cocktails, and evolving breakfast twists, thoughtfully prepared by people as passionate about food as they are about the planet.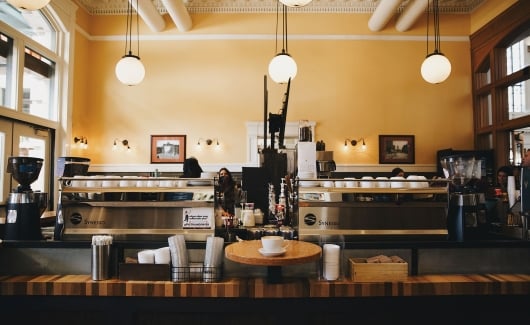 Named for the trains that carry truck trailers on flatbed rail cars, Pigtrain Coffee proudly serves organic, locally roasted Conscious Coffee and espresso, as well as pastries, grab-n-go selections, and desserts.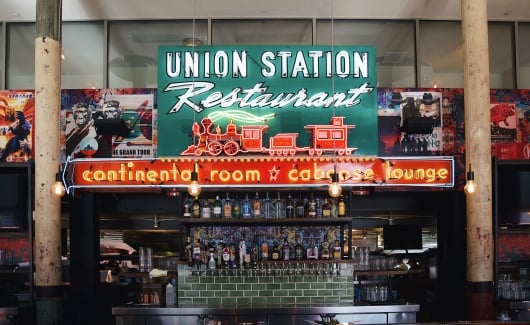 Denver Union Station's go-to for globally-inspired street food, with a menu crafted especially for sharing, in a fun and eclectic atmosphere. Think neon signs, big flavor, laid-back vibes, and sturdy drinks.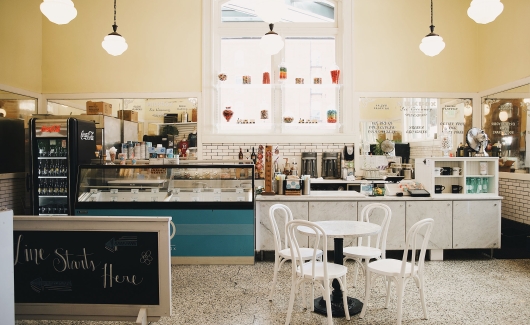 Discover the sweetest corner of Denver Union Station, with sixteen delightful, rotating flavors of ice cream (including vegan options!) along with shakes, sundaes, cones, cups, and even boozy milkshakes.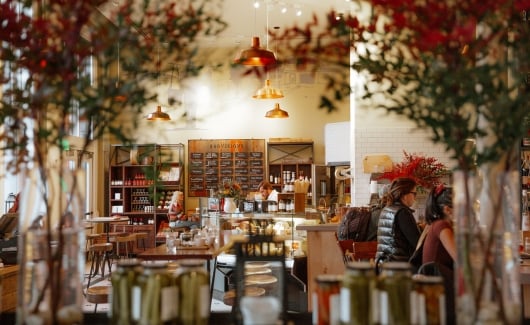 Mercantile dining & provision
Experience James Beard Award-winning chef Alex Seidel's signature take on elevated comfort food, or browse the European-style market for fresh pastries, juices, and locally sourced meats and cheeses.
A mouthwatering option for lunch, dinner, or a quick bite while on-the-go, ACME Delicatessen is downtown Denver's go-to for artisanal deli meats, made-to-order sandwiches, classic deli salads, and irresistible sweet treats.