A Century and a Half in the Making
Like so many ambitious ventures before it, Denver Union Station began as a dream.
In the late 19th century, train travel had opened up the West to untold numbers, eager to build a life for themselves on this bold new frontier. With this in mind, the city planners of Denver began designs on a new station that could capitalize on the strong demand for train travel and serve as a gateway to their growing city.
On June 1, 1881, their bold vision was realized as the new Denver Union Depot opened its doors. Spanning 500 feet and adorned with a 180-foot clock tower at its center, the station held the distinction of being the tallest building in the West in its day.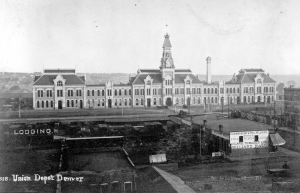 It stood for less than three years. On March 18, 1894, an electrical fire consumed the station, destroying the central hall and iconic clock tower. Though the Depot was quickly rebuilt, its replacement, too, was short-lived. In the span of two short decades, the city found it had outgrown the now comparatively modest structure, and work began on a grand new vision for this reimagined gateway to the Mile High City.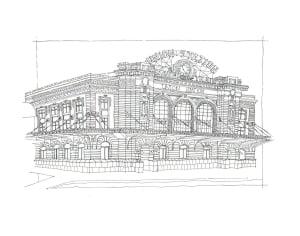 Built from carved granite in the imposing Beaux-Arts style, the newly christened Denver Union Station at last opened its doors in 1914. Since then, it has played host to an impressive roster of notable dignitaries, from Queen Marie of Romania to Presidents Theodore Roosevelt, William Howard Taft, and Franklin Delano Roosevelt. The Station reached its zenith in the mid-1940s, welcoming more than 50,000 visitors daily, including many U.S. service members and their loved ones during the Second World War.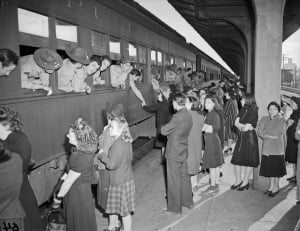 With the waning popularity of train travel in the latter half of the 20th century, the Station gradually fell into disuse. In 2001, efforts began in earnest to revitalize the once-great landmark of historic Lower Downtown, culminating in a grand reopening of the reimagined Denver Union Station as a shopping, dining, and cultural destination in 2014 — precisely one hundred years after the opening of the rebuilt structure.
Please feel free to contact us for any question or inquiries.