Plan the Perfect Date Night in Denver Union Station
Plan the Perfect Date Night in Denver Union Station
Famed for our breathtaking architecture, buzzing culinary scene, and prime location in the heart of the city's trendy LoDo neighborhood, Union Station is a must-visit Denver destination that's perfectly designed to sweep you off your feet. Our historic landmark in the heart of the Mile High City is home to an impressive array of restaurants, bars, cafés, and cocktail lounges infused with the glamor of a bygone age. So whether you're meeting an exciting new match for the very first time, hoping to break out of that dinner-and-a-movie rut, or looking to celebrate a milestone anniversary in style, you'll find the perfect setting for romance right here on Wynkoop Street.
Ready to let the sparks fly? Here are five of our favorite date night ideas in Denver Union Station.
The Casual Coffee Date
Perennially popular as a first-date option, the classic coffee date is an ideal choice for anyone hoping to forgo the fuss of a cheesy candlelit dinner in favor of stimulating conversation (and perhaps a stimulating beverage or two). Casual, comfortable, and easy on the pocketbook, the coffee date offers a flexible, open-ended structure that leaves plenty of room for spontaneity — perfect for getting to know a potential new match.
Of course, when it comes to elevating a romantic rendezvous over your run-of-the-mill morning coffee run, it all comes down to ambiance — something Denver Union Station's Pigtrain Coffee Company has in spades. With its warm, inviting atmosphere, enticing menu of organic, locally roasted coffee, and prime location opening out onto the Great Hall, Pigtrain offers the perfect jumping-off point for your next memorable meet-cute.
Choose from their menu of barista-crafted beverages like their golden root turmeric latte or fan-favorite nitro cold brew, and bask in the abundant sunshine of the Mile High City on a stroll through historic LoDo. Or if you're looking for something a little more intimate, grab a round of cheeky Irish coffees and cozy up together on a leather sofa under the glittering chandeliers of the Great Hall.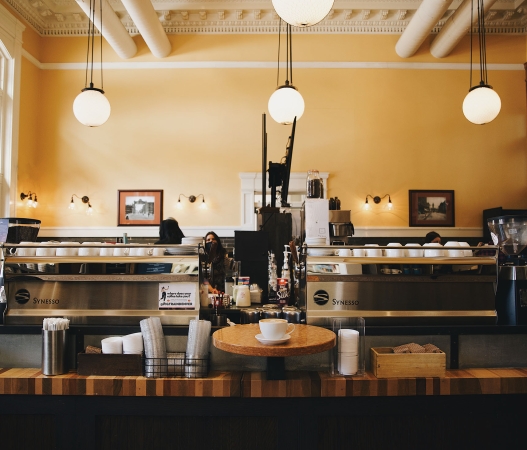 The Oh-So-Cool First Date
Let's face it: choosing the right venue for a promising first date can be a daunting task at the best of times. Go overly formal and you risk coming on too strong, while a venue that's basic or all-too-forgettable can quickly turn your would-be romance into a one-date wonder. The ideal first-date venue should be somewhere in that coveted middle ground: a relaxed, intimate setting that exudes an effortless cool without being try-hard.
Enter ND streetbar, Denver Union Station's go-to destination for globally inspired street food in a fun and eclectic setting. A rustic-industrial space, artfully appointed with warm wood-and-leather accents and glowing neon lights, it's the perfect spot to cozy up and get to know each other over a round of drinks and some tasty street eats. (Did we mention their menu is made for sharing?)
An extensive list of craft ciders, sours, and IPAs is sure to impress even the most discerning of hopheads. If you're craving something a little stronger, choose from their rainbow of crafted cocktail options like the classic Moscow Mule or playfully named Pink Palazzo Pants. Plus, with fantastic deals like their Wednesday all-day happy hour, you can treat your date to an affordable midweek rendezvous that still tastes like a splurge.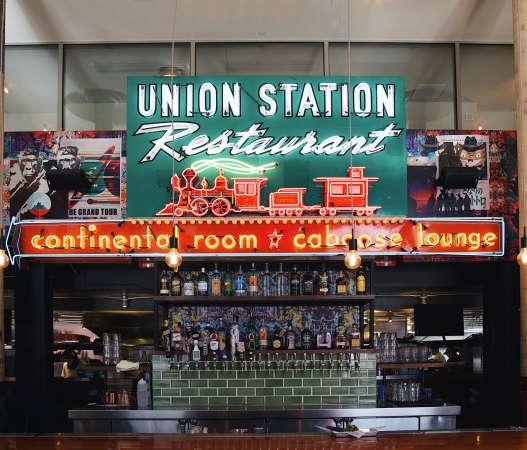 The Milestone Celebration
The early days of dating might be all about playing it cool, but for long-term committed relationships, pulling out all the stops once in a while is a tried-and-true way of keeping the romance alive. For couples looking to keep things fresh, there's no better choice for that big milestone celebration than dinner at Stoic & Genuine. (Quite literally — their motto is "fresh is everything".)
Helmed by the acclaimed culinary team behind popular Denver eateries Rioja and Bistro Vendôme, Stoic & Genuine is a multi-coastal seafood house and oyster bar committed to sustainable seafood creations, with fresh-caught ingredients flown in daily. A chic space with an open kitchen, abundant natural light, and a classic, urban-inspired design, its welcoming ambiance invites you to shake off your everyday routine and rekindle the romance that first brought you both together.
Start your evening off with a dozen fresh oysters (famously an aphrodisiac!), then indulge in the mouthwatering delights of their Sesame Crusted Yellowfin Tuna or the Moroccan-inspired Verlasso Salmon. Celebrating a special occasion? Stoic & Genuine boasts an extensive wine list, where you're sure to find the perfect selection to toast to your enduring love.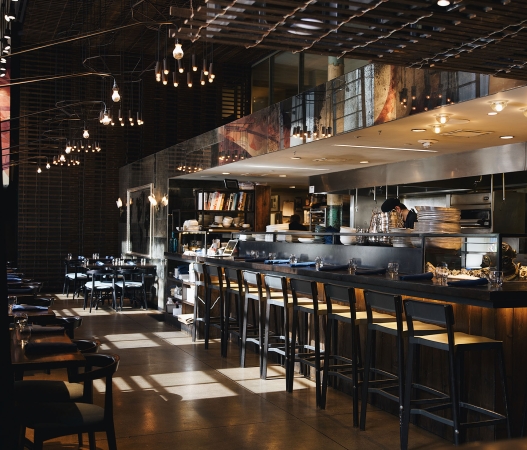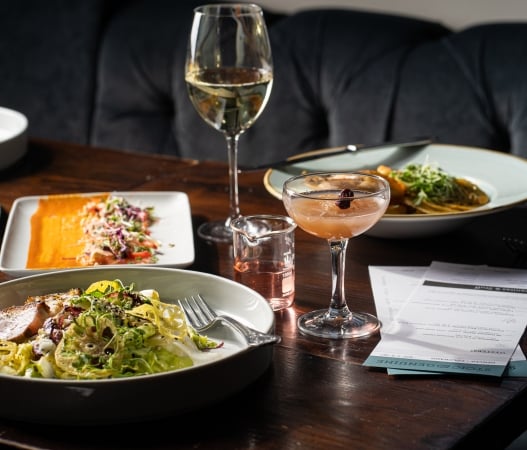 The Double Date
Who doesn't love a double date? The opportunity to spend quality time with your other half while also hanging out with friends isn't just a recipe for a great time — it's also an amazing way to strengthen your relationship with your partner and to avoid falling into the dreaded Netflix-and-chill rut.
Of course, when it comes to choosing the venue for your next double date, finding something that will appeal to all four parties can sometimes be a challenge. Should you prioritize live music? A great selection of beer on tap? An enticing menu? An outdoor patio?
How about all of the above?
With its charming, turn-of-the-century architectural details, lively, raucous atmosphere, and weeknight happy hour deals, Denver Union Station's iconic Terminal Bar has become a favorite of both locals and visitors alike. Located inside the historic ticketing office just off the Great Hall, this upscale gastropub boasts an incredible menu of delectable dishes, like their Fried Chicken Po'Boy or the droolworthy Black & Blue Steak Ciabatta. Choose from their extensive menu of local draught beers from some of Colorado's best microbreweries, then grab a table on their Wynkoop Plaza patio and let the memorable evening begin. You know what they say: two's company, three's a crowd, and four? Four's a party.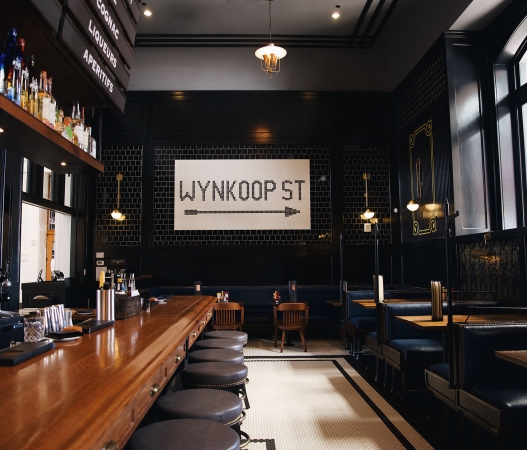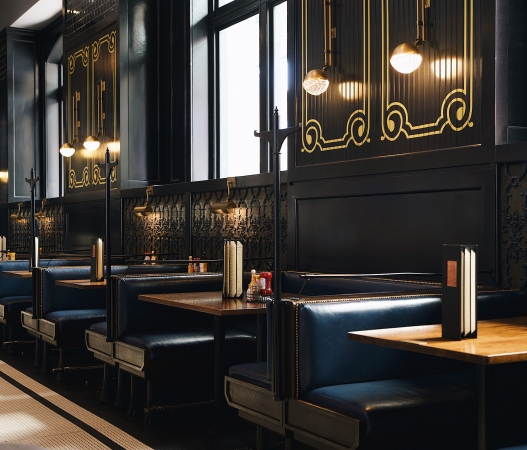 The Elegant Nightcap
Looking to add a dash of enchantment to your evening without the fuss of a formal, sit-down dinner? Transport the object of your affections to another era with an elegant nightcap at The Cooper Lounge. Located on the upper mezzanine, beneath the glittering chandeliers of the Great Hall, The Cooper Lounge's elevated ambiance evokes the chic cocktail lounges of a bygone age. Towering, 28-foot cast-iron windows offer breathtaking views of Lower Downtown, while sophisticated Art Deco touches add an unmistakable air of romantic refinement.
For couples looking to imbibe in style, The Cooper Lounge does not disappoint. Choose from a selection of perfectly prepared libations, like their signature take on the classic Old Fashioned or the cognac-infused End of the Line. A curated menu by chef Justin Burdick offers the perfect answer to late-night cravings, with shareable dishes like the burrata alla panna or a decadent red velvet cake that is simply to-die-for.
For a truly unforgettable evening, snag a room upstairs at The Crawford Hotel, and let the elegance and refinement of this beautiful, turn-of-the-century building be the perfect backdrop to your budding love story.
Romance and Denver Union Station? Now that's a match made in heaven.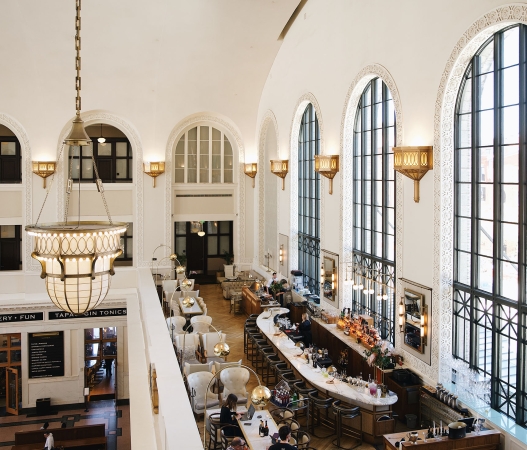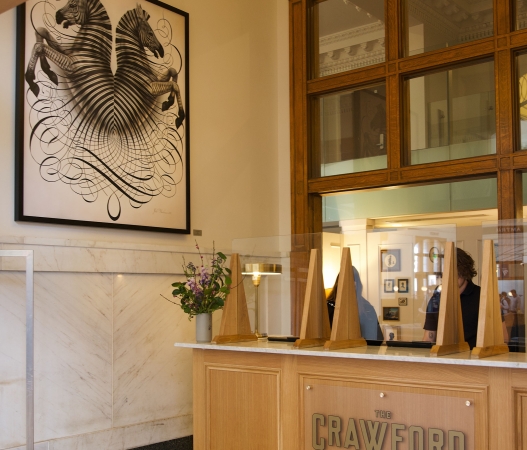 Additional Blogs to Check Out
Here are some blogs we think you'll love, give them a read.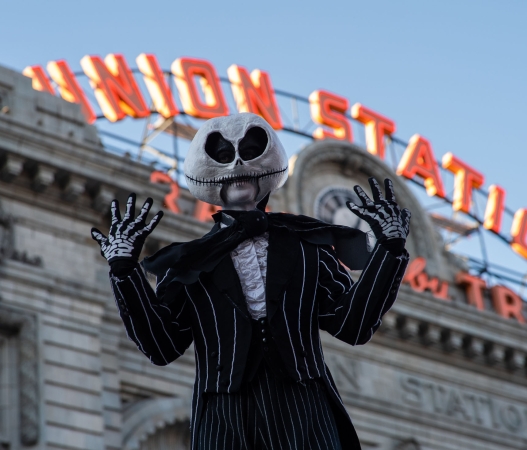 Celebrate Spooky Season at Denver Union Station
Get into the Halloween spirit at Union Station, from the family-friendly BOOnion Station Trick-or-Treat Parade to Hocus Pocus Halloween Opus, a spooky 90s bash.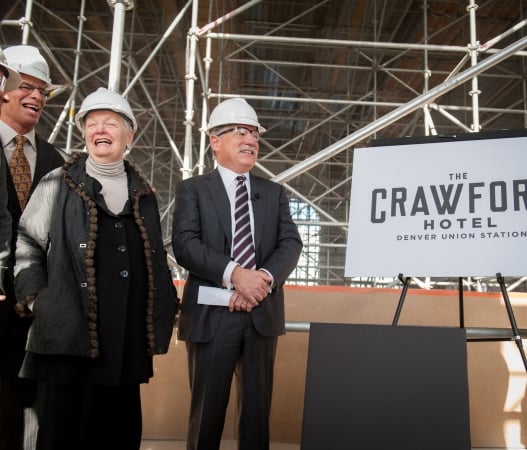 The Legacy of Dana Crawford
From Larimer Square and the Oxford Hotel to historic Union Station, discover how Dana Crawford's vision and determination changed the face of Denver forever.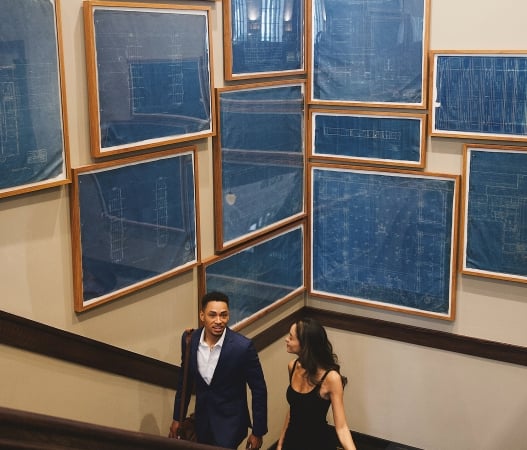 Plan the Perfect Date Night in Denver Union Station
Whether meeting an exciting new match for the very first time or celebrating a milestone anniversary in style, plan the perfect date night at Union Station.