Explore the Public Art of Denver Union Station
Explore the Public Art of Denver Union Station
With its glittering chandeliers, towering cast-iron windows, and breathtaking Beaux Arts architecture, Denver Union Station is widely regarded a masterpiece in and of itself. This stunning, century-old building has become an icon of the Mile High City and its historic Lower Downtown neighborhood — but did you know that the Station is also home to an incredible collection of public art?
Curated by NINE dot ARTS, the Union Station collection showcases an incredible range of emerging and established Colorado artists, telling the story of our historic building — and the vibrant community it calls home — through a mix of artifacts, antiques, and works of art.
"Union Station's art program had to be as storied, as unique, as exciting as the building
Itself," explains Sage Hospitality and Union Station Alliance President and CEO Walter Isenberg. "This collection lives up to the building's iconic status and brings one of Denver's cultural landmarks to life."
From artistic reimagings of the images of our past to striking photographic installations that play on themes of perspective, place, and ime, come along as we take a journey through the stunning spaces and inspiring artwork of Denver Union Station.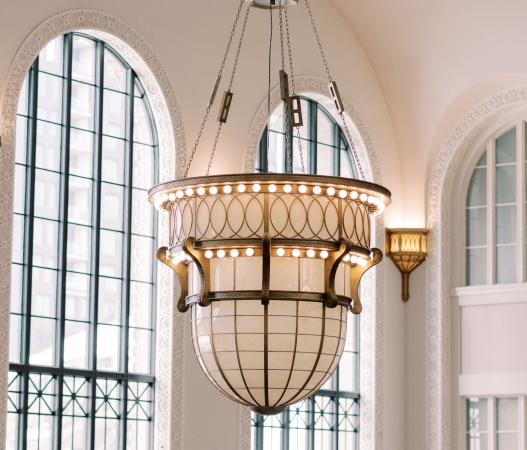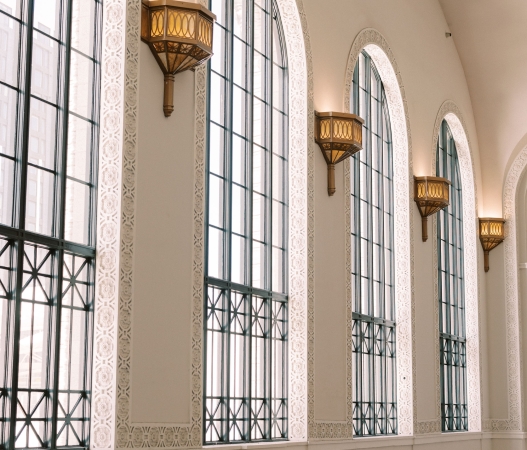 Station in a Station
Since it first opened to the public in 1881, Denver Union Station has played host to countless personal stories and been shaped by different historical eras. The evocative "Station in a Station" installation, found in the south wing corridor of the first floor, provides a stunning visual exploration of the many faces of this century-and-a-half-old building. Here, a variety of talented local artists, including Kim Allen, Michael Anderson, Paul Brokering, Ben Durham, Gifford Ewing, Charly Fasano, Barbara Froula, Cindi Miller Herleman, Dennis Line, and Darin Volpe offer differing interpretations of the iconic image of Denver Union Station. These works run the gamut, depicting everything from the building's imposing exterior to the quotidian human stories that have made it the heart of Denver life for generations.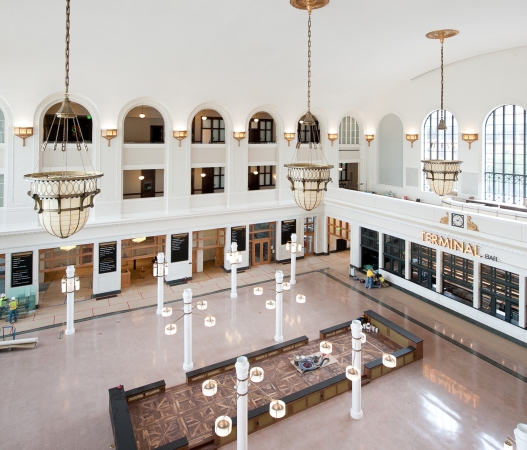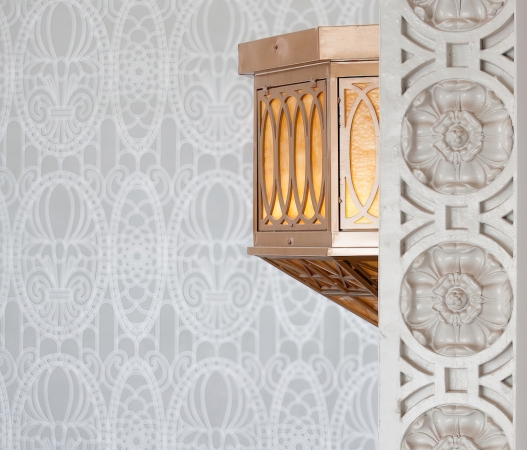 Locomotives
This visual celebration of the beauty and significance of the everyday carries over into artist and photographer Paul Brokering's arresting "Locomotives". Gracing the south elevator lobby, the series offers a hyper-saturated, almost technicolor exploration of rail travel.
"Sometimes the most mundane of situations can be transformed into stunning images," Brokering says of his series of head-on photographs of locomotives against a diverse array of landscapes and backdrops. "Images we walk past everyday unnoticed."
Indivisible
Nearby, at the first-floor concierge area, the artist Jake Weidmann's piece, entitled "Indivisible", offers up a sumptuous, surrealist take on the power of community and collective action — themes deeply resonant to both the Station and Denver's Lower Downtown neighborhood, whose historic buildings narrowly escaped demolition thanks to the vision and advocacy of the community's preservationist organizations.
Under the Bridge
Historic buildings, like great art, create an opportunity for those experiencing them to reflect on the elements of existence we so often overlook: place, perspective, and the passage of time. These themes run strongly through the 'fracture' works of artist Lori Bunton. Her piece in the second-floor south wing guest corridor, entitled "Under the Bridge", uses multiple consecutive photographs to reconstruct the picture plane, playing with shifts of light and space in a final image that is evocative of Union Station's railroad roots.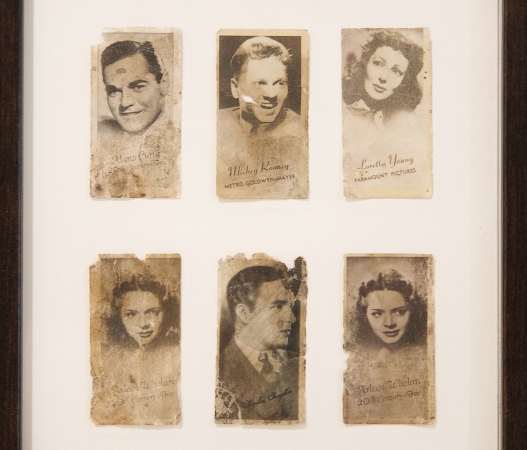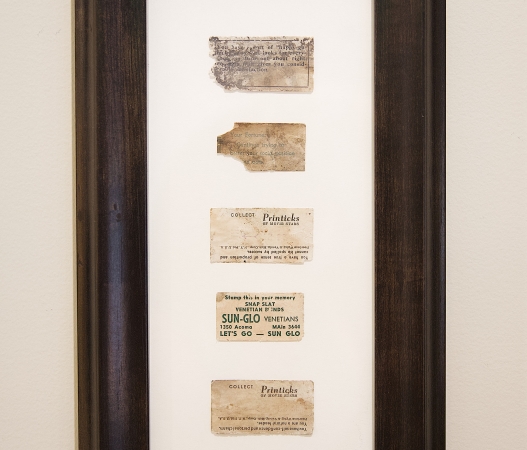 Passages
An historic railroad hub, Denver Union Station has acted as a significant juncture in the journeys of countless individuals across the generations. Images from artist Mark Lunning's "Passages" series play on this theme the personal journey as shaped by a series of individual choices. The three stunning photo polymer etchings depict roads, rails, rivers, and trails throughout the Colorado area, from the Georgetown Loop in Clear Creek County to the wilderness trails outside of Aspen.
Historic Images, Reimagined
Like Lunning's images depicting roads, rails, and trails in the Colorado landscape, Michael Dowling's sketches — found on the third floor, north wing guest corridor — are based on old photography, and explore the west, how we got here, and how this place and its history continue to shape us. Modeled after historic Colorado portraiture, Dowling's sketches integrate color and graphical elements in a contemporary reimagining of the emblems of our collective heritage.
These Days, Long Lost
Those enamored of the past know that nostalgia can be a slippery thing: at once illuminating and obscuring the realities of a bygone age. This thematic tension is explored in artist Ryan Everson's sculptures, which grace the Station's fourth-floor south wing guest corridor. Everson employs dated, aphoristic signage and weathered structures to evoke a world of nostalgic fantasy, examining the relationship between fabricated melodrama and the longing for genuine experience.
The New American West
In this striking black-and-white photographic installation, found in the Station's fourth-floor north wing elevator lobby, artist Susan Goldstein interrogates the relationship between the rugged, once-wild western landscape and its human inhabitants.
"In the early 21st Century this vast expanse of land remains much as it was centuries ago," she explains. "But signs of human's presence are pervasive even in our absence."
Let Yourself Be Transported
Inspiration abounds at Denver Union Station, whether in the stunningly restored historic spaces, incredible culinary experiences, or entrancing local artwork that brings generations of stories to life within our walls. Come experience it for yourself and let your inner artist be transported by the crown jewel of downtown Denver.
Additional Blogs to Check Out
Here are some blogs we think you'll love, give them a read.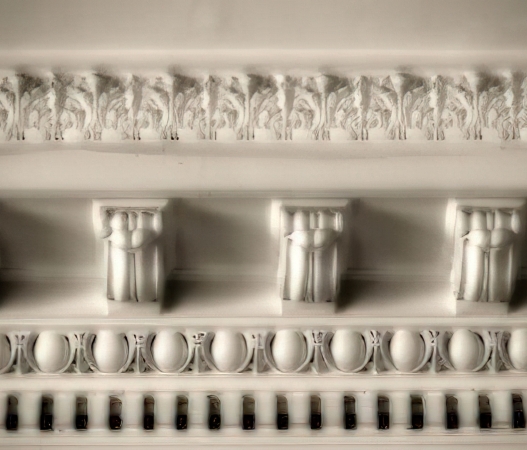 Explore the Public Art of Denver Union Station
Explore an incredible collection of public art from local artists across Colorado, and see why Denver Union Station is a destination for inspiration in LoDo.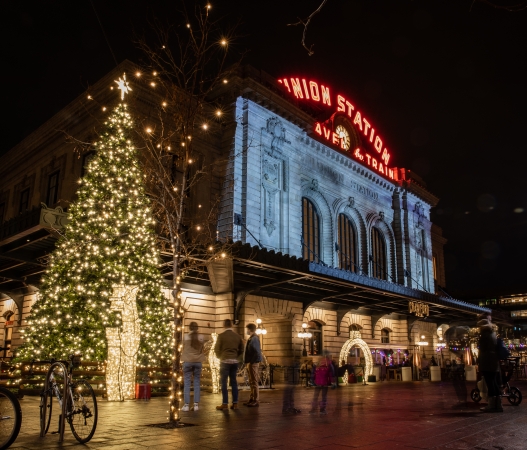 Dashing Through LoDo
A Collective Holiday Extravaganza Presented by Denver Union Station, Dairy Block, and McGregor Square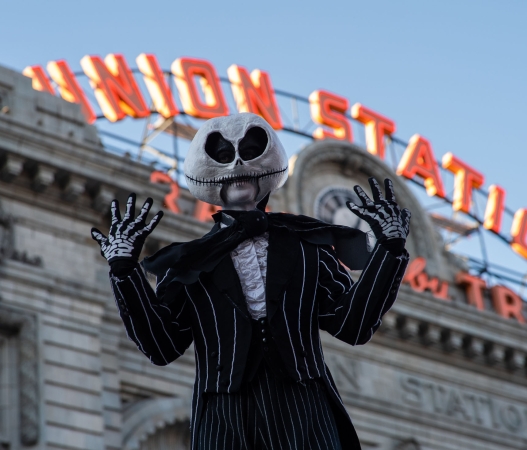 Celebrate Spooky Season at Denver Union Station
Get into the Halloween spirit at Union Station, from the family-friendly BOOnion Station Trick-or-Treat Parade to Hocus Pocus Halloween Opus, a spooky 90s bash.